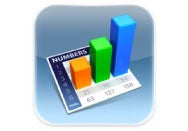 I remember when the first iPhone was released, I had to have one. I have to admit, the first release with limited capabilities as a business device had me holding off for almost a year. Only when I hear about iPhone 2.0 software release, did I jump on the bandwagon. We have come a long way since
June of 2007
and it won't be long before my MacBook Pro stays at home and I am traveling completely mobile with just an iPhone and iPad.
Many companies/developers released office suites for the iPhone, but the iPad was a game changer. The iPads just being larger made many of these apps more of a reality to the business user. I remember first trying to incorporate Docs to Go on my iPhone 3G, I tried to hard infact. It got to the point, I was just wasting time, not saving it. Many of my tech friends have gone almost completely mobile, utilizing only iPads and iPhones, some of them are fellow Superintendents. Yesterday, twitter created Jack Dorsey was quoted saying this
"90% of my computing is now on the iPad (with a keyboard dock)," Dorsey said on Twitter. "And I love it."
Below is an article from Macworld discussing the many office suites available for the iPad. They discuss the positives and negatives as well as some of the services like
Dropbox
that make these suites sweeter!
Office Suites for iPad